A heartfelt thanks to my dedicated students at City Dance and Metronome and to my readers in Amherst, Austin, Baltimore, Beijing, Boston, Bujumbura, Buenos Aires, Capetown, Cebu, Chicago, Chifeng, Dallas, Dobbs Ferry, Dubrovnik, Edinburgh, Halifax, Hong Kong, Houston, Jakarta, Lewiston, Lima, London, Los Angeles, Macau, Madison, Manila, New Haven, New York, Oberlin, Owings Mill, Palo Alto, San Antonio, San Francisco, Savannah, Shanghai, Singapore, Stillwater, Sydney, Taipei, Tokyo, Toronto, Vienna and Washington, D.C. for expressing your appreciation of Ballet to the People, making us the Top Dance Blog of 2011, even though we are very new to the dance blogging scene.
I wanted to handwrite each and every one of you. Here is the closest I could get: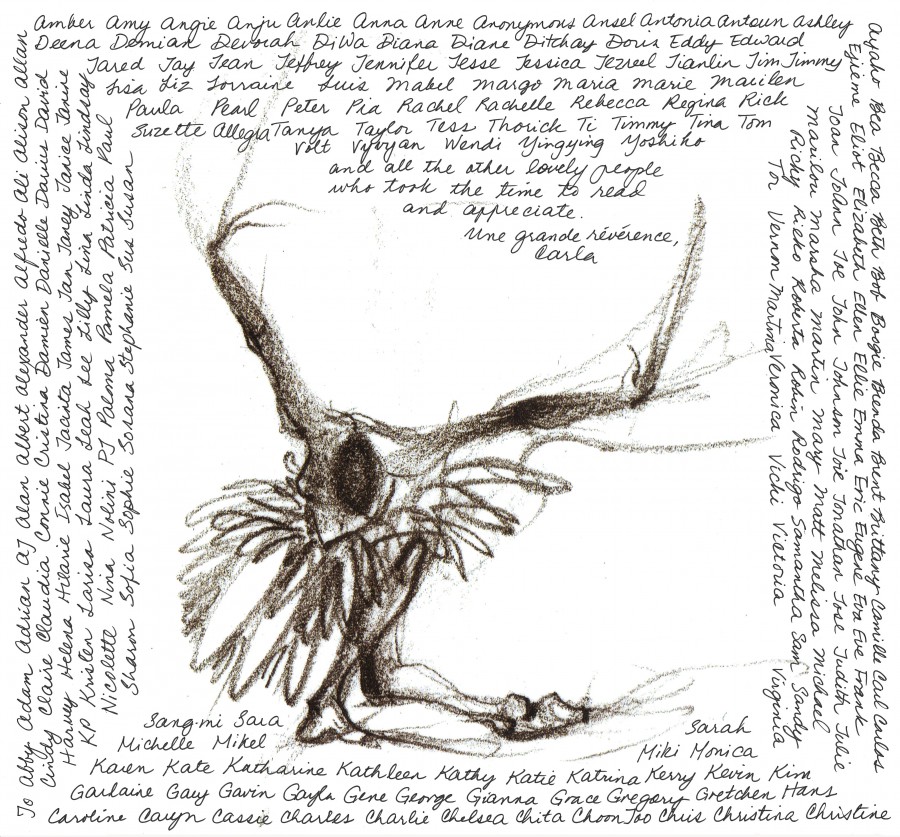 I notice that many dance bloggers ended the year with their personal picks for "the best of" 2011 – best performance, best choreography, best reconstruction, best pas de deux, best 32 fouettés, most virile King of the Dance, best impersonation by a Hollywood actress of a real honest-to-God ballerina, and so on. Ballet to the People spent the latter half of 2011 deciphering the strange icons on her WordPress Dashboard, and she feels that you have enough on your plate with the (often) indigestible prose of Alastair Macaulay.
So she thought we should lighten it up a bit, slip into a pair of comfy pyjamas  (oops, I never got out of mine!), curl up with a box of our favorite chocolates (mine: Frans' Gray Salt Caramels) and fire up YouTube. Here are our current faves (most were uploaded in 2011, but performances may be older):
Although wearing 3D glasses makes my stomach churn, this has to be one of the most moving and provocative films ever made about dance. Not every critic was a fan of the late Pina Bausch, especially not Arlene Croce of the New Yorker magazine, who called her choreography "glum, despondent, dabblings in theatrical Dada," pointlessly repetitive, marked by "thin but flashy shtick" suggestive of the "pornography of pain." Occasionally lazy and self-indulgent, Pina was mostly brilliant – and brilliant is not always easy to watch.
For something easier on the eye, take in Miami City Ballet tossing off those fiendishly difficult gargouillades in Balanchine's 'Square Dance'.
These Miami City Ballet dancers look a little sturdier than their wispy New York City Ballet counterparts on whom the ballet was originally choregraphed. But they bring a fresh exuberance and panache to this clever melding of classical ballet and American barn dance, whose origins lie in 17th century England, Scotland and France.
[2012 update: eye-catching Royal Ballet video previously posted here has been snatched off YouTube due to some blah-dee-blah-dee intellectual property dispute with a corporate music giant. Isn't capitalism wonderful?] So B2TP has chosen this lively excerpt from Chris Wheeldon's imaginative take on 'Alice's Adventures in Wonderland', featuring the dazzling Zenaida Yanowsky at her zany best as the Queen of Hearts, in part a witty homage to the Rose Adagio in 'Sleeping Beauty':
And here's a guy whose contemporary dance company is the next big thing in Japan. This dance is from a strange and disturbing film that I cannot recommend, but the dance stands alone as a work of art.
If you are ever asked by anyone – let's say, a 4-year-old, or a hedge fund trader, or a NASCAR driver – to define individual perfection, just show them this:

And if they ask you what is that amazing thing she does with her legs and feet, tell them it's called bourrée.
Then there is the perfect union between a ballerina and her partner, the combination of ecstatic abandon and exquisite control, tender reassurance and blind trust, exemplified by these Paris Opéra luminaries at the top of their game:
Just finished the last chocolate in the box… Pulling up the duvet, powering down the laptop, and turning out the light.
Dance Advantage Top Dance Blogs 2011 announcement
Thank you, Nichelle!