Leigh Donlan reports from Cal Performances at Zellerbach Hall: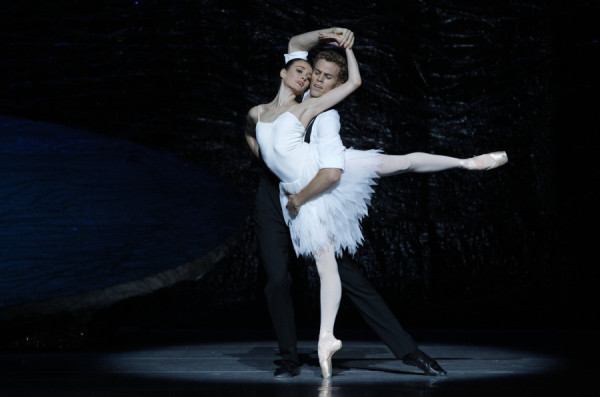 The Australian Ballet, under the artistic direction of David McAllister, brought Graeme Murphy's bold adaptation of Swan Lake to Cal Performances at Zellerbach Hall this weekend, and the modernist revision certainly had its moments. Murphy's rendering casts Princess Diana, Camilla Parker-Bowles and Prince Charles in the lover's triangle (revealed in the program notes) and scraps the traditional choreography of Marius Petipa and Lev Ivanov. Murphy also hacks the original Pytor Il'yich Tchaikovsky score with his rearrangements, with undesirable results. This fractured, psychological thriller-ballet often feels unsettling, but it does make a certain kind of sense.
As Odette/ Princess Diana/ the white swan, Madeleine Eastoe delivers a gracious performance. By Act II, she has been betrayed by her husband, publicly humiliated by her royal in-laws and committed to a sanatorium for daring to stand up for herself. To escape her maddening circumstances, she slips into a dream world where she dances with swan maidens at the lake which, for this production, is an awkward, raked disc that looks more like a UFO than a frozen body of water. But it is here that we first feel reprieve from the tabloid mess of a story. Sixteen swan maidens flurry about the stage, their arms and torsos outstretched in full flight. It is also here that we once again witness Kevin Jackson's (Prince Siegfried/ Prince Charles) impressive partnering skills as the doomed couple's love is rekindled in the ethers. But the choreography of parallel passés, twitchy head rolls and cowering torsos soon shatter the illusion of the dream world being an advantageous place, and Odette awakens alone and shivering in her sanatorium cell.

Acts III and IV highlight the skills of Lana Jones as the Baroness von Rothbart/ Camilla Parker-Bowles/ the black swan. In this version of the infamous ballroom scene, Prince Siegfried's waltz with his black swan becomes a sassy tango, and Jones is luminous in her mystique. The Baroness appears quite pleased with herself and her glittering party until trumpets blare, announcing the unexpected arrival of Odette, freshly sprung from the asylum and glowing brighter than on her bridal day. The tables are turned and the Baroness descends into a furious rage while, thankfully, the Tchaikovsky score finally gains some much needed momentum (through no fault of the Berkeley Symphony, who played wonderfully throughout.) The Baroness attempts to have Odette recommitted to the sanatorium, but Odette escapes to the lake before the doctors arrive. Prince Siegfried finds her in her wedding gown, which he removes to reveal a black swan-like costume.  But as a storm arises, Odette chooses to flee with her maidens rather than stay with the dithering Siegfried. In the end, the icy black lake swallows her up.

The gossipy, sordid details of the lives of British monarchy aside, it was the mangling of music and movement that I found most vexing. Glorious moments were quickly stolen from us either by musical rearrangement or incongruous gesture. Perhaps this was intentional, reinforcing the volatile illusions of love, duty and royalty, and forcing us to examine our own ideals. But is a consistently fractured world of scandal, betrayal and heartbreak more legitimate? This adaptation was originally staged in 2002 and has been the "calling card" of the Australian Ballet ever since. Even if it has already gone through some revisions, there remain some internal flaws that left me wanting something deeper, beyond the expressionism and lines and form. If Murphy is seeking a harmonious middle ground between the old and new, I'm not sure he has found it yet.