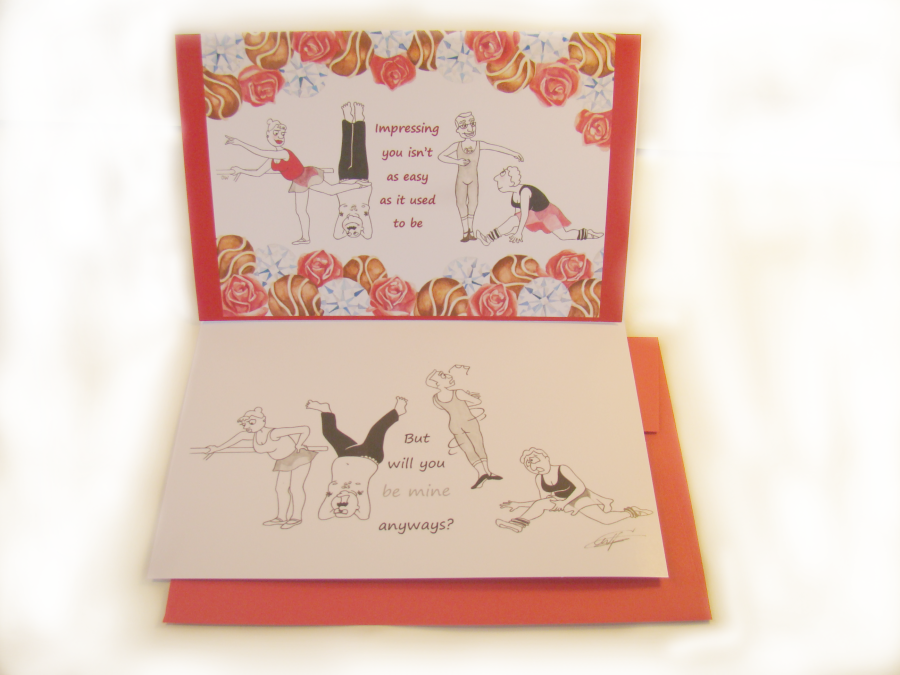 Make your Valentine smile, with a card that celebrates your passion for ballet with an offbeat sense of humor.
Multi-talented ballerina Oshini Wanigasekera has launched a new card targeted especially at devotees of adult beginner ballet. If you don't find them at your favorite dance store, you can order them online.
Teeny Trina may strike your funny bone, but there is much more to admire in her creator's story.
Born in Calgary, Alberta, Oshi studied Biological Science and Physical Anthropology while training as a ballet dancer. Shelving a science career, she moved to New York in 2007 where she attended the Ailey School as a fellowship recipient, and went on to train at other legendary schools, including the Dance Theatre of Harlem School. She currently performs with Brooklyn Ballet and Collage Dance Collective in Memphis.
Her talent for drawing emerged in a series of cartoons and illustrations that capture little slices of life in the dance world. When faced with the challenge of going through surgery on her hip, she founded Teeny Trina to keep the flame of inspiration alive – not just for herself, but also for others who love to dance.
I honestly always wanted to be an illustrator but I never had the guts to just do it. I didn't have the guts to become a dancer either until I was halfway through a science degree and thought, 'What am I waiting for?' Maybe if someone had given me a Teeny Trina card back then, and I'd read the inspirational dance quotes inside, I'd have moved to New York sooner!
This April will see Oshi's first performance after surgery in Brooklyn Ballet's new season, in a program titled Roots & New Ground. She is particularly fond of improvisation, especially in pointe shoes, and says her favorite piece that she's performed so far with Brooklyn Ballet is a structured improvisation called Quilt, created by Lynn Parkerson and Julia Gleich. Another favorite in Collage Dance Collective's repertoire is Frankly Speaking by Darrell Grand Moultrie, set to songs by Aretha Franklin.
Oshi's parents emigrated from Sri Lanka nearly 40 years ago, and Oshi has made several trips to Sri Lanka in the past ten years to immerse herself in the culture and natural beauty of their home country.
Although most of my family have moved away, there is something invisible that tugs at my heart. There is a peace that I feel there, and it's unrelated to being around people of my own ethnicity.
Her own experience of training to become a ballet dancer and the challenge of not fitting the stereotypical image of a ballerina, inspired her to create The Brown Girl Project – a performance and interactive lecture aimed at building confidence in young girls. Using as backdrop the history of the Dance Theatre of Harlem and its founder Arthur Mitchell, Oshi also wove into the project narratives and messages from inspirational world leaders like Nelson Mandela and Martin Luther King, Jr. She brought this work, which she called Vivartana, to Sri Lankan schools in 2014. It was so enthusiastically received that she hopes to revive it and continue to take it on the road, provided she can raise funding.
In the meantime, enjoy Oshi's musings on the peculiar world of ballet, as she frames them through the delightful Teeny Trina.