Ballet to the People leads a vagabond life these days, living out of a suitcase, at the mercy of incompetent airlines and humourless customs officials. Few cities do a worse job of welcoming visitors than New York: from landing at JFK to the ride in to Manhattan, the experience is bleak, the vistas shabby, the inhabitants cantankerous.
But if your sole mission in New York is to consume theatre and ballet, then – in the words of Comden and Green – it's a helluva town.
Wanting to catch ABT's Julie Kent in her final season before retirement, Ballet to the People saw her dance Desdemona in the arms of Marcelo Gomes and Joseph Gorak. This dream team could not rescue Lar Lubovitch's dramatic Othello, however, from the calamity of a score by Elliot B. Goldenthal.
Click here for our review of this volatile spectacle in Bachtrack.
Tripping across Lincoln Center Plaza to watch Teresa Reichlen, Sterling Hyltin, and Georgina Pazcoguin tear up the stage  in a very mixed bill at New York City Ballet, Ballet to the People was also impressed to witness Erica Pereira's very competent debut as the lead ballerina in Balanchine's Raymonda Variations – stepping in at the eleventh hour for an injured Ashley Bouder.
Jerome Robbins' timeless NY Export: Opus Jazz, choreographed in 1958  – with magnificent, edgy set designs by the great social-realist artist Ben Shahn –  was far more modern and memorable than Peter Martins' Morgen, a series of interchangeable romantic pas de deux, featuring lots of swooping backbends and endless variations on the promenade, impeccably danced by Hyltin, Reichlen, Rebecca Krohn and three earnest, hardworking men who wore a perpetual look of anxiety. The glamorous soprano Marjorie Owens kept us from nodding off through the 30 minutes of Strauss lieder, her voice like rich butter cream frosting.
Fortified by a salted caramel swirl from the gelato cart outside Alice Tully Hall, Ballet to the People returned to the Met to see Isabella Boylston and the merciless Wilis of American Ballet Theatre in Giselle.
The true heroine, of course, is not the titular Giselle (no slight intended to Boylston, who makes a convincing transformation from captivating, headstrong village girl to merciful wraith) but Myrtha, the fearsome Queen of the Wilis. Devon Teuscher is a revelation in this role.
At the time of its creation, Giselle reflected "a 19th century anxiety about growing numbers of unmarried, unmoored women whose sexual appetites could not be contained." Giselle makes a feminist statement, the power of which depends entirely on the strength of the portrayal of Myrtha, and on the unity of the Wilis. Saturday matinée was a triumph of ensemble work – crisp and authoritative, united in style down to the angle of the head, the cock of elbows and wrists, and the enigmatic, focused gaze.
Ballet to the People then grabbed the #1 train to the Lyric Theatre at Times Square for On the Town – that delicious confection inspired by Jerome Robbins' groundbreaking ballet Fancy Free, about three sailors on shore leave.
Joshua Bergasse's choreography is exuberant, swellegant, and endlessly inventive, buoyed by the kinetic scenic and projection designs by Beowulf Boritt.
Our valiant sailors sang and danced up a storm, and pined over dames. They are, however, stock characters, and, weighed down by so many unmemorable songs, their distinctive personalities are not as sharply etched as they were in Fancy Free.
The true heroes of the musical turn out to be the two leading ladies: cab driver Hildy and paleoanthropologist Claire, played to perfection by Alysha Umphress and Elizabeth Stanley. In a play that is in many ways a throwback to the 1940's, the frank, freewheeling sexuality of these two female characters is refreshing.
The central dance role is filled by New York City Ballet's adorable Megan Fairchild in the role of Ivy Smith, "Miss Turnstiles for the month of June." Fairchild dazzles in all her scenes, including an erotic dream pas de deux with sailor Gabey (Tony Yazbeck), set in a boxing ring.
For all its manic silliness, On the Town, like Fancy Free, is rooted in a profound sense of loss, insecurity and impermanence. Our trio of sailors must return to their ship after 24 hours of comic mishaps and breathless lovemaking – leaving Hildy, Claire and Ivy waving mournfully from the dock. After all, the shadow of World War II still looms.
Click here to read our Huffington Post review of New York City Ballet's mixed bill, American Ballet Theatre's Giselle, and On the Town.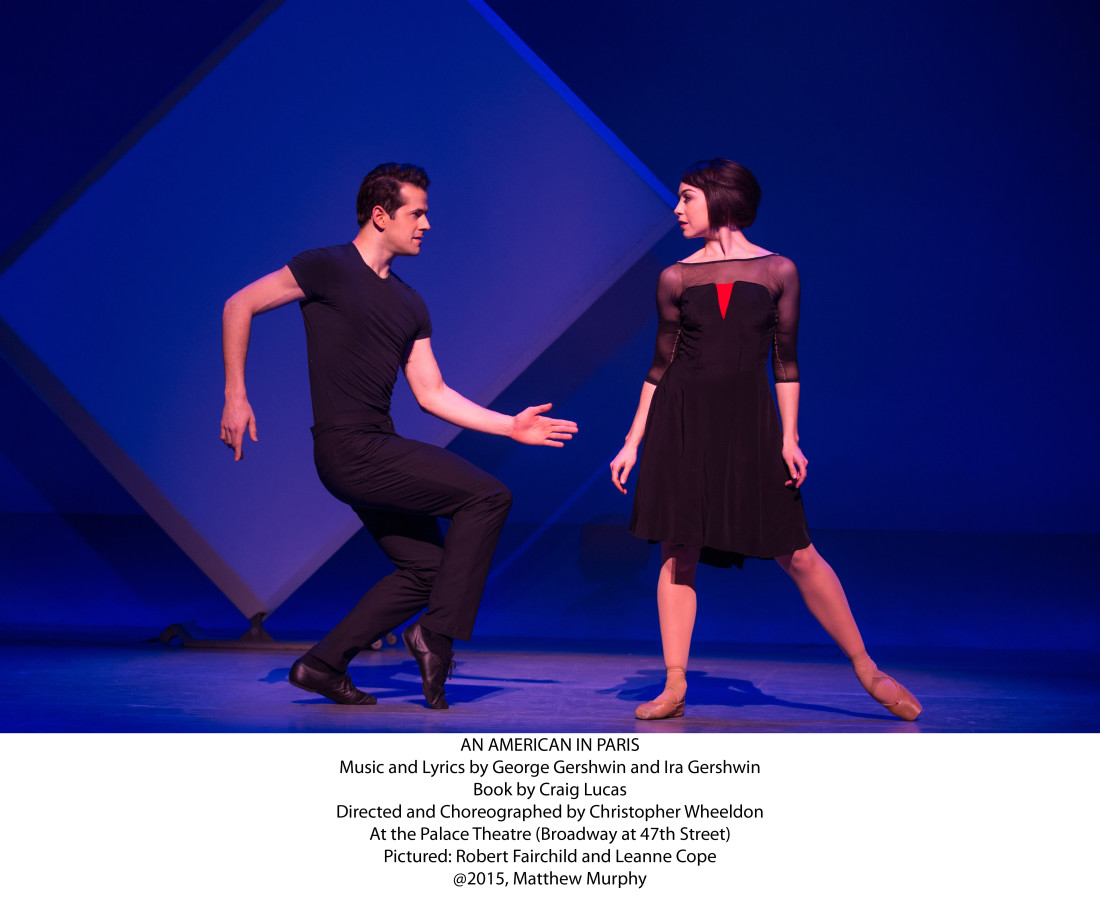 So it was off to the Palace Theatre to see what Christopher Wheeldon had wrought with An American in Paris. This irresistible reworking of the 1951 film has been shifted back a few years to post-Liberation Paris by playwright Craig Lucas, who put more meat on its narrative bones, and cast a few intriguing shadows over Gene Kelly and Vincente Minelli's improbably sunny, Technicolor vision of Paris.
The ruthlessly perfectionist Kelly could not have handpicked a more worthy successor to fill his shoes in the lead role than New York City Ballet principal dancer and heartthrob Robert Fairchild (brother to On the Town's Megan Fairchild.) Fairchild is sensational as American lieutenant Jerry Mulligan, who "missed his train" out of Paris – "kinda sorta on purpose," as his new friend, another American, the cynical composer Adam Hochberg observes. (Brandon Uranowitz is pitch-perfect in the Oscar Levant role.)
The handsome, clean-cut Fairchild boasts a warm singing voice and impressive acting chops, and tears up the stage, both in his solos and in several stunning pas de deux with Royal Ballet ballerina Leanne Cope in the role of Lise.
(That Fairchild did not win the Tony seems like a glaring cock-up by Tony voters – or a reflection of the dismissive attitude toward dancers that is widespread in the theater community.)
Of course Ballet to the People was most intrigued to find out how Wheeldon and his design team would handle the climactic 17-minute ballet that Kelly had shaped into a magnificent, mini-travelogue of iconic Parisian landmarks.  Click here to find out in our Bachtrack review of An American in Paris on Broadway.