Sure to provoke some heated arguments is the roll call of the most glorious (and most disappointing) moments in dance over the past 12 months, published in Dance Europe's October issue. Here are a handful of names that made it into Carla's Critics Choice selections:
San Francisco Ballet's Vanessa Zahorian, best dancer of the year. For lots of reasons: here's one. And another one. And one more.
New York City Ballet's Sara Mearns, notably for her outstanding performance as Odette-Odile in Peter Martins' Swan Lake. (Yes, she fell out of those fouettés. Twice. And nobody in that spellbound audience gave a damn.)
Misty Copeland and Daniil Simkin for their outstanding performances in MacMillan's Romeo and Juliet at the Met. It was his first Romeo ever and her third Juliet – see my review in the Huffington Post.
Tajik dancer Aliah Najmabadi for her outstanding performance in Ayomi Ishq at the San Francisco Ethnic Dance Festival. (Details in my review of this exhilarating festival in the Huffington Post.)
New Adventures' Ashley Shaw for her outstanding performance ­as Aurora in Matthew Bourne's Sleeping Beauty. I waxed rhapsodic over her in Bachtrack.
Garrett Anderson for his outstanding performances in the inaugural season of the brand new SFDanceworks, which I reviewed in the Aug/Sept edition of Dance Europe (paywall.)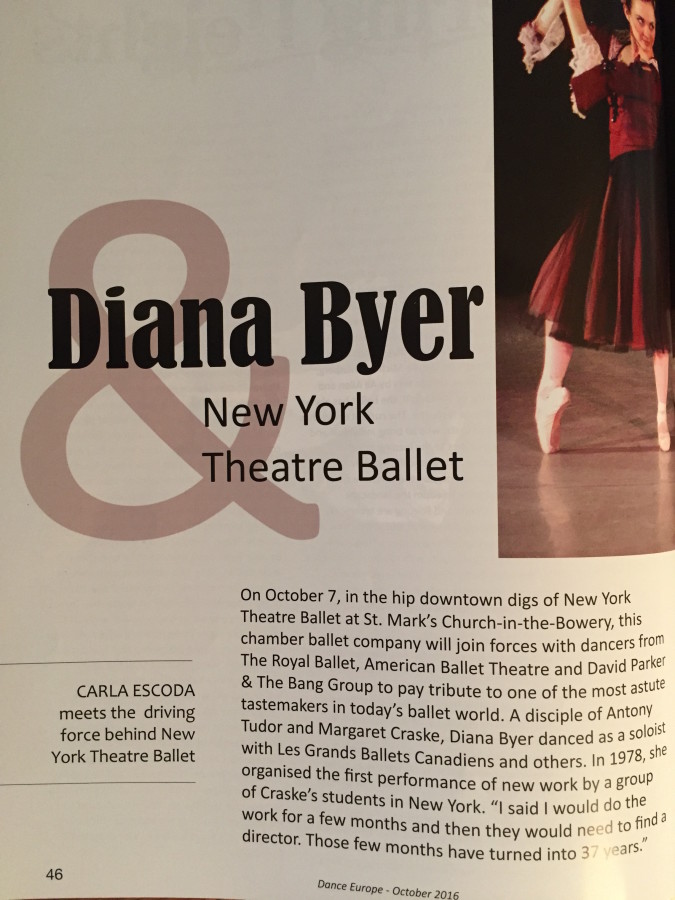 Diana Byer as best director of the year and New York Theatre Ballet as best company of the year. Most recently I reviewed them at New York Live Arts in Legends and Visionaries, a mixed bill of Jerome Robbins, Richard Alston, Milissa Payne Bradley, Zhong-Jing Fang and Steven Melendez. My interview with Byer also appeared in Dance Europe's October issue.
Michael Pink's Dorian Gray for Milwaukee Ballet proved to be one of the most exciting premières of the year. I called the whole enterprise "mad, bad and dangerous to know" in my review for the Huffington Post.
Krissy Keefer's Sin Palabras for D.I.R.T., Dance in Revolt(ing) Times, at San Francisco's Dance Mission was another sizzling hot property (reviewed for Bachtrack.)
Milissa Payne Bradley was the new choreographer to watch. I reviewed the piece she set on New York Theatre Ballet for the Huffington Post. On the Left Coast, the West Wave Dance Festival premiered her audacious Enough Said, a pas de trois for three ballerinas set to a soundtrack of comedy routines by Louis C.K., Daniel Tosh and Mitch Hedberg (video clip here). I wrote in Dance Europe that "Enough Said is funny and illuminating on multiple levels, whether you speak ballet fluently or not."
And the Worst News of the Year? The demise of Silicon Valley Ballet.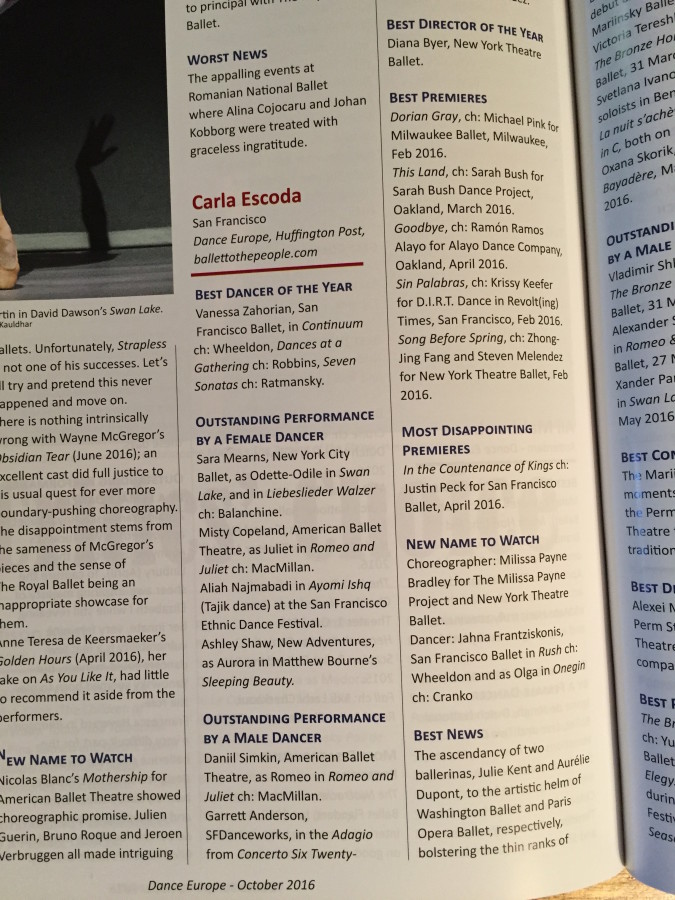 For the rest of my list and those of other critics around the world, check out the October 2016 issue of Dance Europe (subscribe to the print and/or online edition, or purchase a single issue).
And do not forget the vibrant dance scene in Asia! Last month I gazed back at the extraordinary history of Ballet Philippines, and summed up the highlights of its current season for Bachtrack.
Finally, to ring out a turbulent year, I surveyed the best of the Bay Area holiday dance scene. For my winter dance round-up, I interviewed young dancers as well as distinguished veterans, all of whom have served many years in the Nutcrackers or the more unconventional holiday fare for which San Francisco is famed. Find out what they shared with me in my piece for KQED Arts.